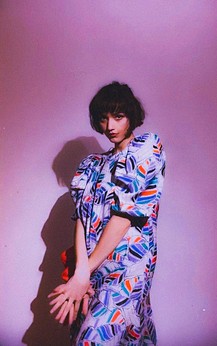 Location
Helsinki, Finland
About Naomi Meyro

Naomi Meyro (b.1992) is a Jamaican-born artist, with roots in India and Germany, but raised in Northern Finland.
Naomi studied Pedagogy with a minor in Art Education. She has been traveling and living in several different countries around the world; teaching and practicing art, music and yoga. Now she is back living in Helsinki, Finland.

Visually Meyro finds it interesting to study the subtleties of shades, surfaces and patterns. The most important thing for her is to feel some kind of harmony and peace when the work is done. She considers painting a form of meditation, so if the painting leaves her with a restless feeling, she usually paints it all over again.

Analog photography has been one of Naomi's hobbies since she was 13 years old.
Inspiration
Currently Naomi is inspired by fantasies, daydreams, the healing power of sound and higher consciousness and astrology.

Artwork
Acrylic paintings, mixed media & pen work.
Naomi also loves to experiment mixing photography with other medias.
Past exhibitions
• September 2019 Cafe Roasberg, Helsinki
• November 2019 Planet Flow, Berlin
• June & July 2020 Lloyd's Cafe, Helsinki

•September-November 2020 Yoga am Park, Berlin